We hope you will be able to take a well-earned rest over the Christmas period after another turbulent year. We are endlessly grateful to all who have been working to improve the lives of children and young people during the highs and lows of 2021.
We want to say a special thank you and show our admiration to school staff for carrying on so brilliantly through the continuing difficulties of the pandemic. We had a huge amount of engagement from schools during Anti-Bullying Week this year, and it looks as though we had more schools take part in the week than ever before! As another year comes to an end, we see this as a true testament to the passion and dedication of the workforce and it made us so proud seeing so many of our resources and activities being used in schools around the country.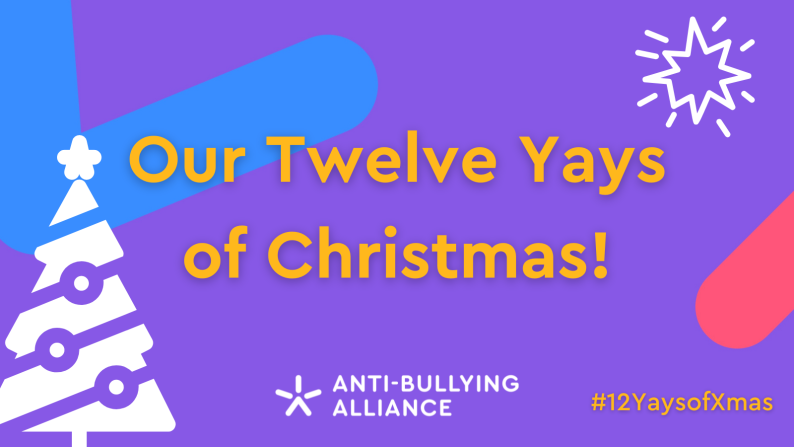 According to our Christmas quiz, there are 12 days of Christmas that start on Christmas day. We've come up with 12 things that we are proud of achieving as a team in 2021, our Twelve 'Yays' of Christmas: 
All our online training is still available and you receive a certificate of completion for all courses you undertake. Don't miss out on this opportunity and take part today.
2. We launched our new whole-school anti-bullying programme, United Against Bullying (UAB).
Our new anti-bullying support programme, which is funded by the Department for Education for three years, embeds skills, tools and confidence in the workforce to help to prevent and tackle bullying in schools. It will help schools to take a whole-school approach to reduce and respond appropriately to bullying incidence and particularly focus on reducing bullying of those most at risk, including those with protected characteristics. All schools in England can join for free and will be supported to become UAB Schools and UAB Leaders.
Anti-Bullying Week 2021 reached thousands of schools and millions of children across England, Wales and Northern Ireland (through our sister organisation the Northern Ireland Anti-Bullying Forum). We gave out free school packs, films and social media toolkits all developed with young people. We trended across social media and even the likes of Brian May, Caroline Quentin and Manchester United got involved! Watch our celebration video here.
4. Millions of children and adults (and pets) joined in with Odd Socks Day.
Odd Socks Day forms part of Anti-Bullying Week and is supported by our patron Andy Day and his band Andy and the Odd Socks. We worked with Andy to bring you free school resources about kindness, a video and song, and an Odd Socks photo competition on social media for schools to win a visit from Andy and the Odd Socks! We also ran a 'Pets In Odd Socks' competition on Twitter and Instagram, and the ABA staff loved seeing the adorable pictures that were shared as a result! All our Odd Socks Day resources are still on our website for you to use.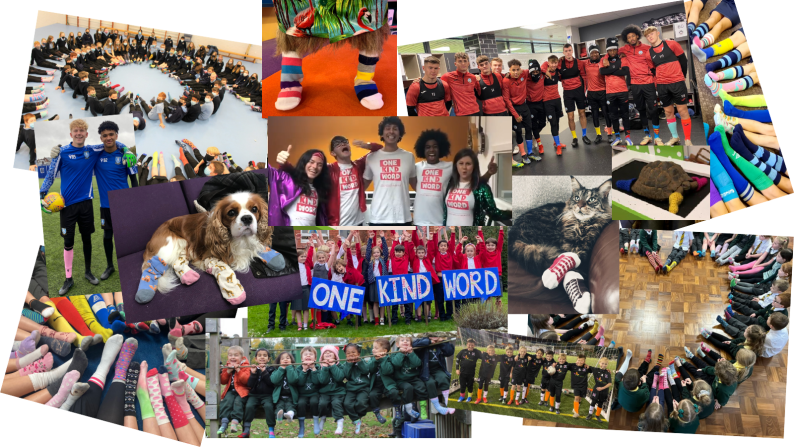 5. We launched our new online CPD training course on Gypsy, Roma and Traveller young people.
Our new online CPD training course educates participants on bullying and the experiences of Gypsy, Roma and Traveller young people at school, as well as preventing and responding to bullying of GRT young people. So far over 500 people have accessed this training!
6. We announced the winners of the Anti-Bullying Week School Staff Award in England and Wales
During our celebration event for Anti-Bullying Week (which can be watched here), the Minister for Children and Families, Will Quince MP, announced the winners in England of our School Staff Award for those members of school staff that pupils nominate have gone above and beyond to address bullying. Young people decided on the winners in both England and Wales, and this year they chose Mr Connolly (England), Mrs Ollett (England), Ms Williams (Wales) and Miss Chewins (Wales). All nominated staff received a certificate and the winners received framed certificates and trophies. We loved seeing the reaction of Miss Chewins receiving her award!
7. We released our annual round up of bullying research: 'Focus On Bullying 2020'.
We worked with leading anti-bullying researcher, Professor Peter Smith (Goldsmiths University), to deliver our annual round up of all the bullying and online bullying research released in the previous year in the UK called our 'Focus On Bullying 2020'.
8. We launched several new free online resources.
We were pleased to launch several new free online resources this year, all of which were written with input from young people. The new resources include: a training course on understanding, preventing and responding to Sexual Bullying; a guide for schools about teaching anti-cyberbullying; and a new guide about supporting pupils that bully.
9. We proudly announced a brand refresh, including a new logo and website.
10. We announced new support from the Welsh Government.
Working in partnership with Kidscape, we announced new support from the Welsh Government, enabling us to deliver anti-bullying support for schools throughout Wales during the coming year. We had Welsh resources created for Anti-Bullying Week, including a Welsh-language version of our primary and secondary school videos.
This work with Kidscape and the Welsh Government also includes the continued rollout of training for school leaders to embed the Rights, Respect, Equality guidance for schools; the development of training for school governors to ensure they understand their roles and responsibilities; and the formation of a new Anti-Bullying Steering Group for Wales, for all youth leaders who are passionate about bullying prevention.
11. We came to the end of our All Together whole-school anti-bullying programme, and were thrilled with what we achieved:
71% of schools that took part said bullying had reduced in their school as a result of the programme. The biggest reduction in bullying was reported by pupils with SEND.
Wellbeing improved for pupils involved in bullying (for both target and those who bully).
61% of schools reported improved behaviour among pupils.
Parents and carers reported feeling more confident about issues relating to bullying as a result of using our parent and carer information tool.
Pupils reported feeling more positive about school after the programme compared to before.
School leads and other professionals reported sustained knowledge and confidence in preventing and responding to bullying, several months after attending our training.
You can watch our celebration event here and read our short summary report here.
12. We had another great year working with our Anti-Bullying Alliance Members.
We worked with our amazing 154 Anti-Bullying Alliance Members and held 5 member meetings and 8 #Take20Talks, where we hear a 20 minute presentation from a member about their anti-bullying work. We're so pleased to be able to provide these online and that they provide a chance to hear from the anti-bullying sector and discuss the latest anti-bullying practice and research. We couldn't achieve what we do without the support of our amazing members. They all have their own resources and anti-bullying tools available as well. Have a look at our members here and you can find out more about signing up to become a member here.
So that's our Twelve 'Yays' of Christmas. We would love to hear yours too. Please tag us using #12YaysOfXmas. We have lots of plans for 2022 and we aim to keep providing you with anti-bullying resources from ABA and our members. We all hope you have a restful, safe and happy Christmas break and we can't wait to work with you all in the new year.
Best wishes
Martha Evans (Director of ABA) and the whole ABA team