Anti-Bullying Week 2021 was coordinated In England and Wales by the Anti-Bullying Alliance. It took place from 15 to 19 November 2021 and had the theme One Kind Word. The week began with Odd Socks Day which was supported by CBBC and CBeebies star Andy Day and his band Andy and the Odd Socks.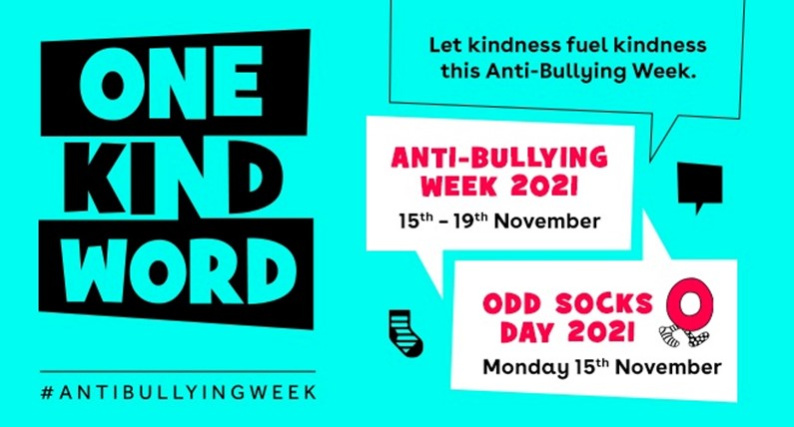 Kindness is more important today than it has ever been. The isolation of the last year has underlined how little acts of consideration can break down barriers and brighten the lives of the people around us. This is one of the reasons, that 'One Kind Word' was chosen as the theme of Anti-Bullying Week that took place from 15 to 19 of November 2021.
Following the success of the campaign in 2020 – when a jaw-dropping 80% of schools marked the week reaching over 7.5 million children and young people - the Anti-Bullying Alliance (which coordinates the campaign each year in England and Wales) asked over 400 young people, teachers, and parents, what they wanted from Anti-Bullying Week 2021. Again and again, the young and not-so-young told us they wanted anti-bullying work to be about hope and the positive and kind things we can do to halt hurtful behaviour in its tracks.
Our call to action: 
Ask if someone's OK. Say you're sorry. Just say hey.
In a world that can sometimes feel like it's filled with negativity, one kind word can provide a moment of hope. It can be a turning point. It can change someone's perspective. It can change their day. It can change the course of a conversation and break the cycle of bullying.
Best of all, one kind word leads to another. Kindness fuels kindness. So from the playground to Parliament, and from our phones to our homes, together, our actions can fire a chain reaction that powers positivity.
It starts with one kind word. It starts today.
How was kindness reflected in plans for Anti-Bullying Week 2021?
As usual, schools in England were able to download free teaching resources and themed assemblies, geared to different key stages, in the Autumn. In 2020 our resources were downloaded 50,000 times.
And Anti-Bullying Alliance patron, CBBC and CBeebies star Andy Day was right behind the campaign again with his band Andy and the Odd Socks. The band released a totally rocking tune to celebrate Odd Socks Day. Andy highlighted Odd Socks Day on the first day of Anti-Bullying Week. There was a serious message behind the fun: let's pull on odd socks to show we're ALL unique and different, and let's be kind to each other and respect each other's individuality.
For older children, the buzz on social media was an important part of Anti-Bullying Week, and a great opportunity for schools to share with the education community how they've embraced the anti-bullying message. In 2020, you helped #AntiBullyingWeek trend at No.1 on Twitter, reach over 44 million users on TikTok, and get almost 600,000 views of Odd Socks Day videos on YouTube. 2021 was not much different!
How you could have got involved!
Accessed our free primary and secondary school packs
Got involved in Odd Socks Day at school, work, or at home 
Nominated a member of staff for our School Staff Award 
Pledged your support for Anti-Bullying Week 
Reviewed our tool for parents and carers
Used resources for schools in Wales 
You can keep informed and support Anti-Bullying Week 2022 by signing up to our mailing list or becoming a member of the Anti-Bullying Alliance.
And follow us on Twitter via @ABAonline #AntiBullyingWeek
We were delighted that Anti-Bullying Week 2021 had a shared theme across the whole of the four nations of the UK.
Anti-Bullying Week 2021 was organised by:
Each organisation developed their own resources and activity to support the week.