Thank you very much to all of you who have donated to ABA over the years. We appreciate every donation!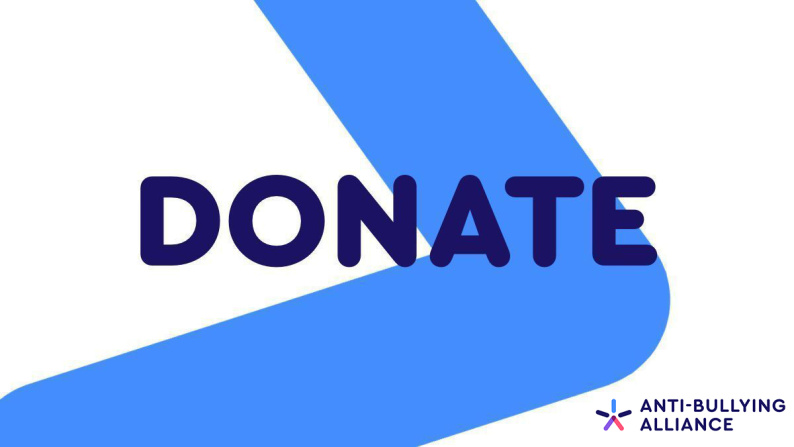 The task, however, is huge and we still need your help.
Your donation will make it possible for us to:
Help teachers and professionals working with children and young people to tackle bullying
Develop support for parents and carers on how to protect and support their children
Influence and improve national policy on bullying so that the UK is a world leader in preventing bullying
Run the high-profile Anti-Bullying Week campaign in schools and communities across the country each November
Donate online today at JustGiving
We are a registered charity (No. 258825) and verified at the Charities Trust. If you would like to donate via the Charities Trust, you can select National Children's Bureau from the list of charities to donate to via the link below: 
Donate via the Charities Trust today
You can also make a donation by sending a cheque to the 'Anti-Bullying Alliance' and posting it to Anti-Bullying Alliance, National Children's Bureau, 23 Mentmore Terrace, London, E8 3PN. 
You can also pay by bank transfer (BACS). Please email [email protected] for further details. *Please note that we do not have paying in slips. 
If you have cash to donate, you can go into any Barclays branch and fill in their blank paying in slip using our bank details to pay directly into our bank account. Please reference 'Anti-Bullying Alliance'. Please email [email protected] for our bank details.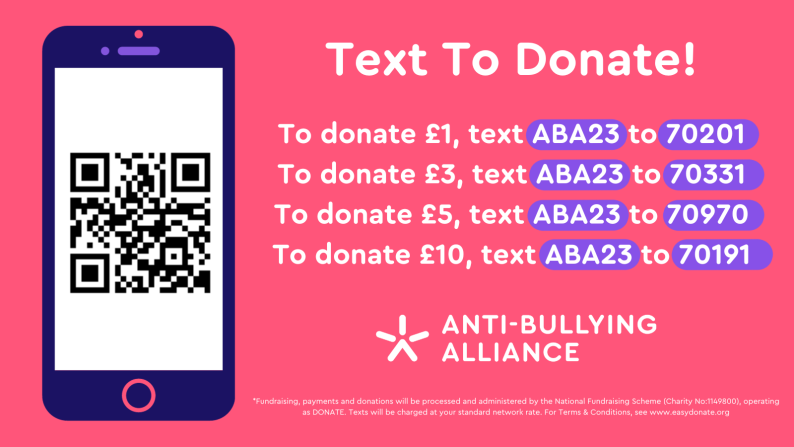 The Anti-Bullying Alliance (based at the National Children's Bureau) does not enlist cold callers or on the street fundraisers to help raise money for us. If someone calls, emails or approaches you on the street fundraising for us this is not a person affiliated to us and you should not give them money.