Below you will find everything you needed to take part in Odd Socks Day in your school on Monday 14th November 2022.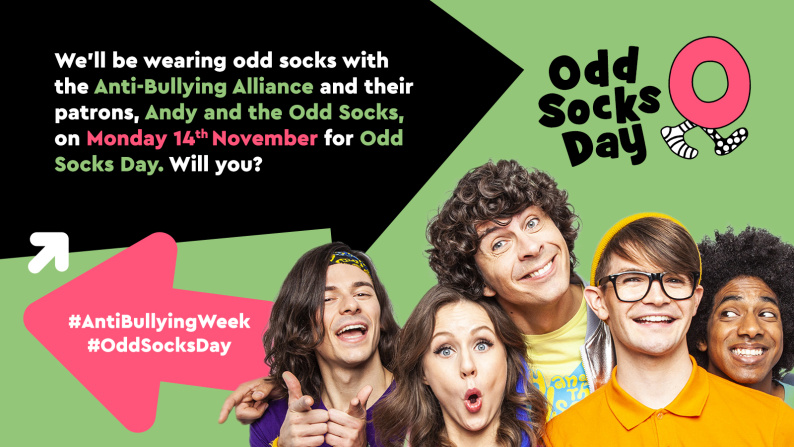 Odd Socks Day provides was an opportunity in your school to have fun, be yourself, and spread awareness of the core values Anti-Bullying Week promotes. We created a school pack which will be launched in early September 2022 and will include:
Book bag flyers
Posters 
Handouts 
An assembly/lesson plan 
Andy and the Odd Socks song 
All the ideas in our materials are designed to help children and adults in a school or early years environment to think about how bullying affects us, what to do if you're worried about bullying and why it's important that we are all unique. 
We hold Odd Socks Day in partnership with Andy and the Odd Socks. Andy and the Odd Socks are one of the most popular bands for young children in the UK.
At the bottom of this page, you'll find all the resources from Odd Socks Day 2021 and check back here in September when we launch the new resources and competitions! 
Odd Socks Day Virtual Assembly 
In 2020 Andy and the Odd Socks were joined by Sir Mo Farah and Annamarie and many other incredible guests for a jam-packed virtual assembly. It's 20 minutes of odd socks fun and important anti-bullying messages. In addition to 2021's school pack and the One Kind Word film, you could also have used this virtual assembly to help bring Odd Socks Day to life!