We are delighted to have the support from CBeebies star Andy Day, and his band Andy and the Odd Socks. The Andy and the Odd Socks team came up with the idea for Odd Socks Day with us in 2017 and have supported us with it ever since. We are so grateful for their continued support.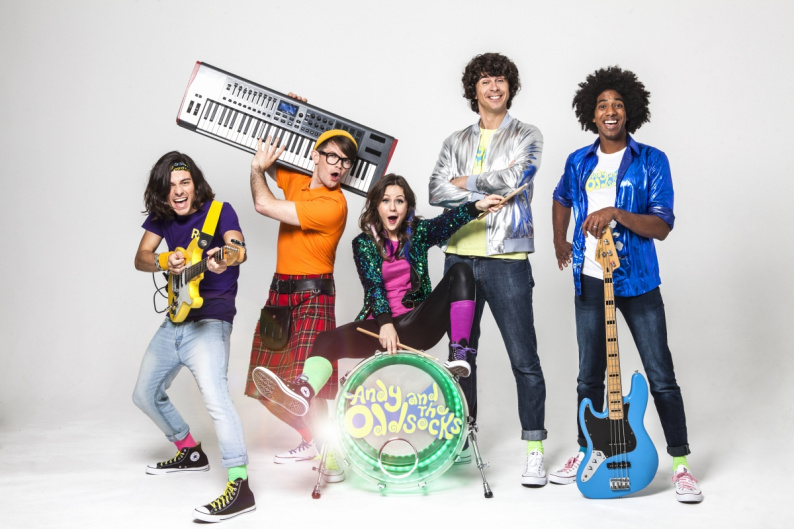 Andy and the Odd Socks are one of the most popular bands for young children in the UK. Stars of the wacky comedy drama 'Andy and the Band' currently on CBeebies and CBBC, the Odd Socks are always there to help their fans along the way and of course save the day…in their own inimitable way. Fronted by Andy Day, one of the most popular children's TV personalities, the Odd Socks are all about fun and laughter, but more importantly they deliver a message of individuality, acceptance and tolerance. Which is what being an Odd Sock is all about… because everyone is different and that's good!
One Kind Word: Andy and the Odd Socks 
We're delighted to tell you that Andy and the Odd Socks wrote another toe-tapping masterpiece song for Odd Socks Day 2021 called 'One Kind Word'. It's features children from school from across the country! Have a watch!
Hi folks! We know how hard these last few months have been for everyone. Lockdown has been so hard for kids. Missing school, missing their friends and family and some of them even missing their birthdays…and we also know how hard it's been for schools too. Everyone deserves a massive pat on the back! We're so pleased to be working with the Anti-Bullying Alliance for Odd Socks Day and Anti-Bullying Week again this year. As you know, we are patrons of the Anti-Bullying Alliance, and we are so very proud to spread the message of acceptance, understanding and respect. This year's theme for Anti-Bullying Week is 'United Against Bullying'. Never before has that message meant so much. Events during 2020 have shown the power of us working together but also that we still have a lot of work to do, and we are all responsible for equipping the next generation with the simple message that we are all different, and that's ok. Last year over half the schools in the country took part in Odd Socks Day…. that's over 5 million children! We would love to beat that amazing figure and have all schools taking part this year! We've recorded a brilliant new charity song and video especially for Anti-Bullying Week called The Kids Are United. We even spoke to school children all over the country to help write the rap! Odd Socks Day is such a simple awareness raiser and we really hope your school will get on board and join in the fun!
Each year Andy and the Odd Socks write us a toe tapping song for Odd Socks Day that helps us bring the Anti-Bullying Week theme to life. 
The Kids Are United - Odd Socks Day 2020 
Andy and the Odd Socks official charity song for Anti-Bullying Week is The Kids Are United. There are also Makaton and BSL versions available on the band's YouTube page. 
Change - Odd Socks Day 2019
Choose Respect - Odd Socks Day 2018 
Unique - Odd Socks Day 2017