The Anti-Bullying Alliance has been named Radnor Fam 'Charity of the Year' for the second year running. The suppliers of spring and flavoured waters, functional waters, infused waters, school-compliant drinks, premium sparkling pressés, fruit juices and own-label brands will fundraise for the Charity with the aim of raising as much as possible to help their work to reduce bullying in the UK.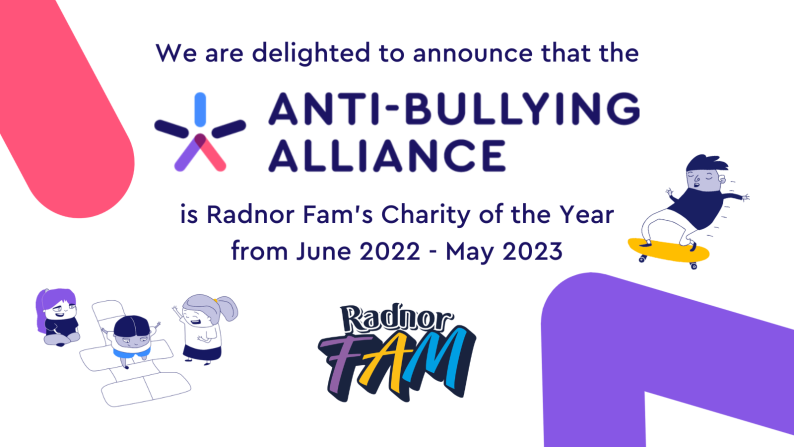 Radnor Hills will be making a donation to the Anti-Bullying Alliance to help them continue their important work and will be encouraging staff to fundraise and take part in Anti-Bullying Week this year. They will also be providing some exclusive prizes for their Anti-Bullying Week School Staff Award, an award for school staff in England who go beyond the call of duty to support children with issues such as bullying, family life, relationships and health. The unique thing about the award is that pupils nominate the member of school staff they think should win the award and the winners are chosen by a panel of young people. Thanks to Radnor Fam, Primary and Secondary School Staff Award winners will win an overnight stay at the five-star Celtic Manor Resort set in more than 2000 acres of panoramic parkland at the gateway to Wales as well as a year's supply of Radnor Fam products! 
All money raised will go towards funding the Anti-Bullying Alliance's vital work to unite against bullying and improve the way schools prevent and respond to bullying taking place online and face to face.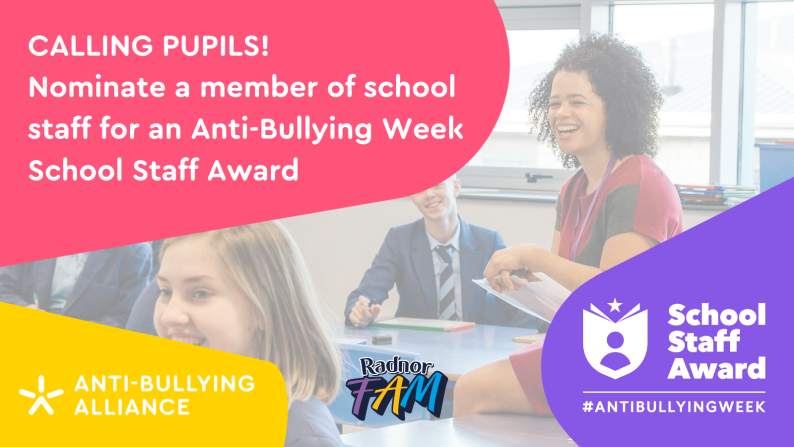 'Reach Out' has been chosen as the theme of Anti-Bullying Week, which the Anti-Bullying Alliance coordinate, taking place from 14 to 18 of November 2022. A jaw-dropping 80% of schools take part in the week reaching over 7.5 million children and young people.
As usual, schools in England and Wales will be able to download free teaching resources and themed assemblies, geared to different key stages, in the Autumn. These will focus on the activities we can all take, from playgrounds to Parliament, from our phones to our homes, to spread kindness and prevent bullying behaviour. Last year our resources were downloaded 140,000 times.
For older children and adults, the buzz on social media is an important part of Anti-Bullying Week, and a great opportunity for schools to share with the education community how they've embraced the anti-bullying message. Last year, you helped #AntiBullyingWeek trend at No.1 on Twitter, reach over 6.5 million users on TikTok, and get almost 300,000 views of Odd Socks Day videos on YouTube.
Radnor Hills, which is based in the old county of Radnorshire in Mid Wales celebrates its 31st anniversary this year and produces a wide range of spring waters, flavoured waters and soft drinks all in multiple formats including plastic bottles, tetra pak cartons, glass bottles and cans, all of which are 100% recyclable.
Radnor Hills produces some of the UK's leading school drinks products all under one umbrella brand 'Radnor Fam' which consists of their Radnor Fizz, Radnor Fruits and Radnor Splash brands which sell over 55 million units a year to UK schools.
For more information on how your business can support the Anti-Bullying Alliance, please contact us here: 

aba@ncb.org.uk

For more details about Anti-Bullying Week and to nominate a member of school staff for the Award, please click here: 

anti-bullyingalliance.org.uk/anti-bullying-week

You can keep informed and support Anti-Bullying Week by becoming a 

member

 of the Anti-Bullying Alliance.