In case you missed it, we have produced a round-up of the facts and figures from the surveys and research put out in and around Anti-Bullying Week this year.
Anti-Bullying Week 2021 saw a huge amount of positive activity and engagement with our #OneKindWord message, which we were thrilled to see. During the week, there were also several thought-provoking pieces of research published to media that help to inform our anti-bullying work and shine a light on key issues surrounding bullying.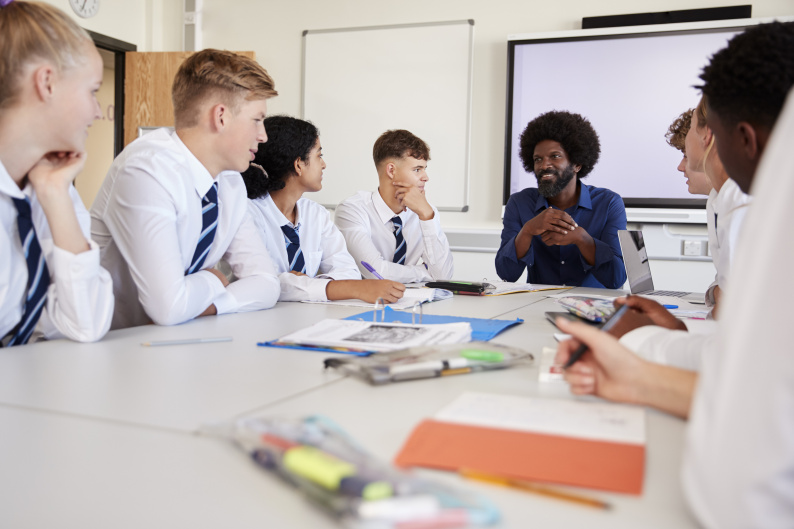 Anti-Bullying Alliance release: questionnaire of 15k pupils
Our own survey, analysed by Goldsmith University, took results from a questionnaire completed by nearly 15,000 pupils between September 2020 and March 2021. The results show a significant number of children are suffering frequently from bullying. In fact, one in five (21%) pupils in England report being bullied a lot or always, with 1 in 22 (4.6%) – the equivalent of one in every classroom – saying they are frequently hit, kicked or pushed by other children. Other findings include:
1 in 12 (8.3%) children say that other pupils frequently tease them;

1 in 14 (7.3%) pupils say they are frequently called hurtful names by other children;

1 in 16 (6.3%) children report being frequently picked on by other pupils because they are 'a bit different', and;

Rates of bullying increased to 30% for children with special educational needs and disability and 27% for children in receipt of free school meals.
Youthwork's Annual Cybersurvey
Published in the week before Anti-Bullying Week, Youthwork's annual Cybersurvey explored the impact the COVID winter lockdown had on teenagers' wellbeing and online lives. Unfortunately, but unsurprisingly, they found that more young people said they had a mental health difficulty in 2020 (12% vs 8% in 2019). While we know from previous research that some children are more likely to be bullied than others, the Cybersurvey also shed light on the fact that children who are Young Carers or have a longstanding physical illness were also most likely to say they were badly affected by the global pandemic than others. Additionally, a new form of discrimination was noticed as 1/3 of teens badly affected by COVID-19 report being bullied online, compared to 20% overall. The research shows that there is a clear need for additional emotional support programmes on identified vulnerable groups such as those badly affected by COVID, young carers and young people with eating disorders, hearing loss and mental health difficulties.
Childline counselling sessions about bullying data  
As part of Anti-Bullying Week, Childline released advice and new insights into bullying. This shed light on the fact that while for some children lockdowns were a respite from experiencing bullying (with sessions about bullying in person decreasing by 61% from 2019), for many the bullying transferred online, with an increase of 25% for counselling sessions about online bullying. These numbers rose and fell in a pattern clearly linked to the national lockdowns as they were either eased or put in place:
In February 2021 during the third national lockdown, Childline delivered 216 counselling sessions to children on bullying in person and 213 on online bullying

In March 2021 as children returned to school, Childline delivered 523 counselling sessions about bullying in person and 171 on online bullying
Early Intervention Foundation: Adolescent mental health: A systematic review on the effectiveness of school-based interventions
The Early Intervention Foundation released a report on Adolescent Mental Health, which reviewed the latest evidence on school-based mental health interventions and provided a picture of what works, for whom and under what circumstances in relation to mental health related interventions. Their main findings show that:
Bullying prevention interventions are effective in reducing the frequency of face-to-face and online bullying victimisation and perpetration.

There is promising evidence on the effectiveness of interventions designed to reduce sexual violence and harassment when delivered to young people at risk of experiencing sexual violence.

There are a limited number of interventions which report evidence of improving mental health and behavioural outcomes among diverse groups and an even smaller number of and an even smaller number of interventions specifically designed for and evaluated with minority ethnic groups. Findings from these studies do, however, suggest promising impact on mental health and behavioural outcomes when delivered at both universal and targeted level.
Ditch the Label's 'Uncovered: Online Hate Speech in the Covid Era'
Another piece of research that focused on online behaviour was Uncovered: Online Hate Speech in the Covid Era conducted by Ditch the Label, which looked at 263 million online conversations around hate speech online and how it has changed since the start of the pandemic. Some of their findings included: 
Anti-Asian hate increased significantly by 1662% in 2020 compared to 2019;

There was a 28% increase in ethnicity based and racist hate speech in the UK and US;

Homophobia made up 85% of conversations relating to hate speech about sexual orientation, and;

The research showed spikes in hate speech after key events over the year such as general elections, the murder of George Floyd and the murder of Sarah Everard.
This not only shows how quickly hate speech can grow, but also reinforces the importance of our Anti-Bullying Week #OneKindWord message.
Kidscape and BounceTogether: How Kind Are We 2021 Report
To end on a positive note, analysis of the kindness survey carried out by Kidscape and BounceTogether in October and November this year told the encouraging news that children have reported experiencing kindness regularly from other children and staff in schools, citing that:
78% of children agree they can talk to a teacher if they are sad, scared or worried;

3 in 4 children agree that people in their school are kind to them;

94% of children say they are kind to others in school, and;

88% of children agree that the teachers in their school are kind.
However, it should be noted that Kidscape also reported that experiences of kindness appear to decrease with age, for disabled children and those with additional needs (particularly boys).
To conclude
It's great to see that so much research and reports are released in and around Anti-Bullying Week. This collection clearly shows that while there are some uplifting stories of kindness that are happening around the world, there is still a long way to go, and there is still a significant proportion of children who are frequently on the receiving end of bullying behaviours. However, like our director Martha Evans has said, it doesn't have to be this way:
"If we are alert to hurtful behaviour, encourage upstanders, and role model kindness and respect - even when we don't always agree, we can break down barriers and brighten the lives of the people around us. So, let's join millions across the country having conversations about bullying and kindness and start a chain reaction of positivity starting with 'One Kind Word'."
Director, Anti-Bullying Alliance
Jessica Alborough
Project Officer – Anti-Bullying Alliance