Bullying is still a serious problem for children in spite of pandemic, with a third saying they have been bullied in the last six months. 

Covid may have changed the way bullying is happening this year, with children reporting rising incidences online and in their community compared to a pre-pandemic poll.

Friendships protect children from the lasting effects of bullying, yet the number of children reporting they have more than one close friend dropped following the outbreak.

Anti-Bullying Week, coordinated by the Anti-Bullying Alliance, is celebrated from 16 to 20 Nov with the theme 'United Against Bullying'.

Odd Socks Day takes place on the first day of Anti-Bullying Week, with CBeebies and CBBC star Andy Day and his band Andy and the Odd Socks launching the charity single 'The Kids Are United'.
Image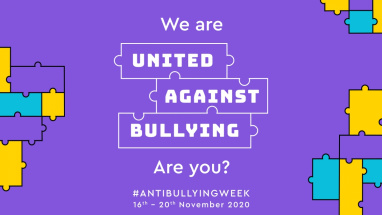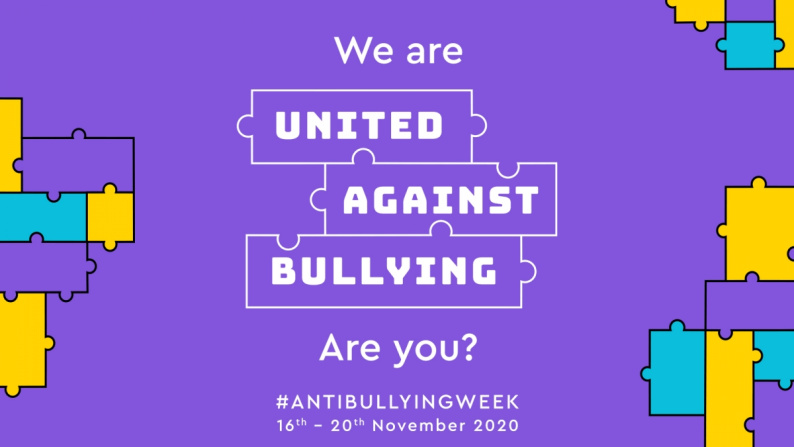 Bullying is still a significant problem in children's lives, with a third (33.5%) of children in England saying they've been victims during the last six months. A poll of 2,000 11 to 16-year-olds, published to mark Anti-Bullying Week, found that one in five children said they were on the receiving end of bullying behaviour once per week or more.
Image
However, the poll, commissioned by the Anti-Bullying Alliance, suggests that Covid-19 has affected how bullying takes place, with rising numbers of children reporting incidents online or in their communities compared to a similar survey last year, and fewer children saying they had been bullied in school.
Of those who reported being bullied recently, 38% said it had taken place online, a rise from 29% in a pre-Covid survey conducted in 2019. There was a similar rise in reports of bullying in the community: with 16% of children who experienced bullying saying it had happened in their community, compared to 9% last year.
Image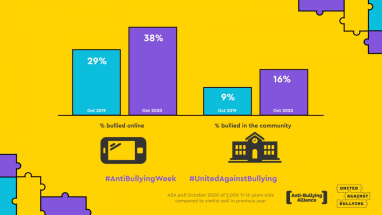 Image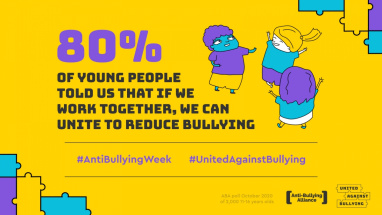 Many children (38%) were anxious about returning to school in September because they feared suffering bullying behaviour. Of those who had been bullied recently, alongside the three-quarters who said it took place within school, 26% said the journey to and from school was a flashpoint.
On a positive note, an overwhelming majority (80%) said that if we work together, we can unite to reduce bullying. This message will be highlighted in the three quarters of schools in England expected to celebrate Anti-Bullying Week this year - reaching over 7 million children and drawing on teaching resources made possible with support from SafeToNet.
Odd Socks Day for Anti-Bullying Week takes place on the Monday 16th Nov, when CBeebies and CBBC star Andy Day and his band Andy and the Odd Socks will be launching their new charity single 'The Kids Are United'.
The song's video, made by hundreds of pupils in their 'bubbles' in schools across the country, encourages young and old alike to wear odd socks to school or work and celebrate what makes us all unique.  The video features 11-year-old dance sensation, Princess K, sharing fresh dance moves in support of Anti-Bullying Week, as well as Libera boys choir, a hugely popular and internationally renowned choir from South London. Andy and the band will be sharing their song and discussing bullying in an online assembly to schools across the country on the morning of Odd Socks Day, which also features messages of support from Sir Mo Farah, McFly and Anne-Marie.
Quotes from young people taking part in the poll:
I enjoyed being at home so no one could bully me.
Some children might not have been able to see their friends for a lot of months while the coronavirus lockdown was going on.
The more isolated kids risk to be bullied more now.
Think lots of friendships have been lost
People cough and they say 'you have the rona'
Seen my Chinese friend being bullied because of the virus
It's clear that bullying remains a significant problem for many children across the country, and we know that these experiences can have a lasting impact well into adulthood. But this year we have witnessed the power that people can have when they unite to tackle a common challenge. If we are serious about reducing bullying, we have to harness that energy and work together. Be it online, in the community or in school, we all have a part to play and its time we came together, friends and family, classmates and colleagues, and unite against bullying.
Martha Evans, Director of the Anti-Bullying Alliance
Because of the pandemic, kids have missed out on so many of the things that they love. Each and every child will have a story to tell about the different ways it has affected them. Now they are back at school, we are all responsible for equipping children with the simple message that we are all different, and that's a good thing! To bring the message home, we've recorded a brilliant new charity song and video especially for Anti-Bullying Week called 'The Kids Are United'. We spoke to school children all over the country to help write the rap and we hope it inspires everyone to get involved or at the very least to get up and dance!
Andy Day, CBeebies and CBBC star and lead singer of Andy and the Odd Socks
Bullying is never acceptable in any form, and we must all take a stand against bullying to create a safe place for children in the classroom and online. Throughout the pandemic we have worked with organisations who are supporting schools in their efforts to tackle bullying. The introduction of relationships education will teach pupils how to treat others with respect and where to get help if they are suffering bullying online or face-to-face. We are also bringing in legislation that protects against harmful behaviour online, which is especially important as we all spend more time online, working or socialising virtually.
The Minister for Children and Families, Vicky Ford MP
Find out more about Anti-Bullying Week at www.anti-bullyingalliance.org.uk/anti-bullying-week  and get involved on social media via @ABAonline #AntiBullyingWeek #UnitedAgainstBullying #OddSocksDay
ENDS
Notes to editors
For more information please contact the National Children's Bureau's media office on 07721 097 033 / [email protected]
About the poll
On behalf of the Anti-Bullying Alliance, Censuswide surveyed 2,002 11 to 16-year-olds in England between 7th and 14th October 2020. A regional break down of the results is available on request.
A similar poll was conducted for Anti-Bullying Week in 2019, which consulted 1,013 secondary school children aged 11 to 16 in the UK.
About the Anti-Bullying Alliance
The Anti-Bullying Alliance (ABA) is a unique coalition of organisations and individuals, who work together to reduce bullying and create safer environments in which children and young people can live, grow, play and learn. ABA is part of the National Children's Bureau. For more information visit www.anti-bullyingalliance.org.uk
About the National Children's Bureau
For more than 50 years, the National Children's Bureau has worked to champion the rights of children and young people in the UK. We interrogate policy and uncover evidence to shape future legislation and develop more effective ways of supporting children and families. As a leading children's charity, we take the voices of children to the heart of Government, bringing people and organisations together to drive change in society and deliver a better childhood for the UK. We are united for a better childhood.
For more information visit www.ncb.org.uk
About Andy and the Odd Socks and 'The Kids Are United'
Fronted by CBeebies and CBBC star Andy Day, the child-friendly band Andy and the Odd Socks was formed to celebrate diversity and individuality in young children in a fun way.
Every year, Andy and the Odd Socks work with schools to create a charity song for Anti-Bullying Week. This year, hundreds of children from schools around the country helped make the video for the new single for 2020 'The Kids are United'.
Watch the 'Kids are United' at: https://youtu.be/c6hR6rTHFSk