Last year over 7.5 million children across the country got involved in Anti-Bullying Week. We know how important the campaign is for raising awareness of bullying, celebrating all the anti-bullying work going on in schools and getting those key anti-bullying messages across. But when the dust settles (and the odd socks go back in the drawer!), what's next? How do we ensure that anti-bullying stays on the agenda for the rest of the year?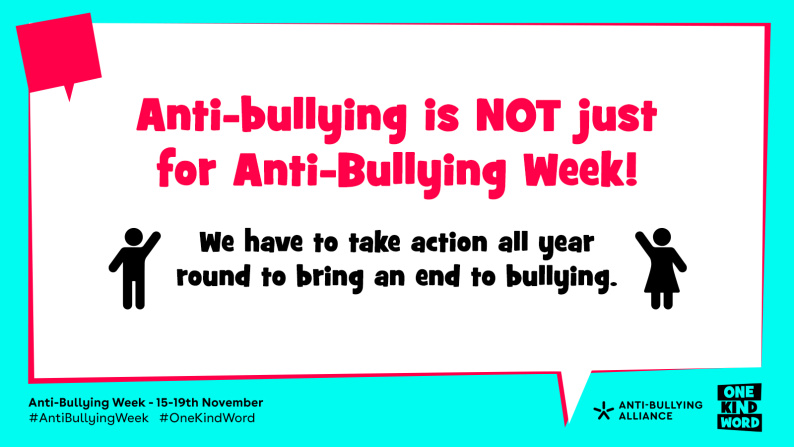 Unfortunately, bullying is still a serious issue and a growing body of research evidence shows that severe and frequent bullying can have a long-lasting impact on children's mental wellbeing and development. Data we collected from pupil questionnaires completed between September 2020 and March 2021 also showed that one in five (21%) pupils in England report being bullied a lot or always, with 1 in 22 (4.6%) – the equivalent of one in every classroom – saying they are frequently hit, kicked or pushed by other children. Rates of bullying increased to 30% for children with special educational needs and disabilities and 27% for children in receipt of free school meals. 
This is one of the reasons why it's so important to keep anti-bullying work on the agenda throughout the year and ensure that there is a consistent and effective approach to tackling bullying. Whole-school approaches to tackling bullying are one of the key ways of reducing bullying in school. 
What are whole-school approaches to tackling bullying? 
A whole-school approach to anti-bullying is cohesive, collective and collaborative action in and by a school community that has been strategically constructed with school leadership to reduce bullying and respond to it appropriately. Evidence published earlier this year by the Early Intervention Foundation following a review of the effectiveness of school-based interventions on adolescent mental health found that whole-school interventions are particularly effective in reducing bullying behaviour. 
The latest evidence suggests that a whole-school approach to intervention is particularly effective in reducing bullying behaviour and can have a long-term positive effect on traditional face-to-face bullying perpetration. There was also found to be promising evidence for whole-school approaches to improve bullying behaviour.
Early Intervention Foundation (2021)
Through our own programmes we have also seen significant reductions in bullying. Our previous whole-school anti-bullying programme, All Together, which had a particular focus on tackling bullying of pupils with Special Educational Needs and/or Disabilities (SEND), was independently reviewed and showed that:
Bullying reduced over the course of the programme, whether that was experience of being bullied (victimisation) or pupils bullying others. The biggest reduction in bullying was reported by pupils with SEND.

Wellbeing improved for pupils involved in bullying (for both target and those who bully). The greatest improvement overall was for pupils who had reported being frequently victimised, then for those who frequently bullied others. The greatest improvement was for pupils with SEND and for those in receipt of Free School Meals.

Pupils reported feeling more positive about school after the programme compared to before. Feeling safer at school was particularly prominent for pupils with SEND.
Schools who took part in the programme said: 
It enabled us to think critically about the journey our pastoral team have been on to embed Anti-Bullying strategies within our community, to evaluate meaningfully how effective those aspects had been and to use that detail to think about what our next steps needed to be. For example, we realised that we needed a more tailored approach for supporting students with SEND through bullying issues.
It has given us a plan to work to and will be a constant feature of our policy from now on.
So how can ABA help? 
The Anti-Bullying Alliance's NEW whole-school anti-bullying programme, United Against Bullying (UAB), funded by the Department for Education for three years, will implement an anti-bullying support programme, which embeds practice to help to prevent and tackle bullying in schools. It will help schools to take a whole-school approach to reduce and respond appropriately to bullying incidence and particularly focus on reducing bullying of those most at risk, including those with protected characteristics. All schools in England can join for free and will be supported to become UAB Schools and UAB Leaders.
The programme builds on the work of our previous All Together programme and will support you to take a strategic, consistent and effective whole-school anti-bullying approach throughout the year. The programme provides access to the innovative United Against Bullying Hub, including: 
A 360° audit and action planning tool
An online pupil questionnaire to ascertain levels of bullying and wellbeing in your school
Specialist tailored resources to support you to implement your action plan, including case studies
ABA resources and also those of our programme partners and ABA members will also be available to support you to implement your whole school approach, such as: 
Our free CPD online training, which includes information on how to tackle bullying of at-risk groups such as our course on 'Bullying and Gypsy, Roma and Traveller young people'  
Advice, support and training from Kidscape 
Peer support programmes from the Diana Award
CLICK HERE TO JOIN THE UNITED AGAINST BULLYING PROGRAMME
Today, we're asking you to pledge what you are going to do for the next 12 months to ensure that bullying stays on the agenda and that we all stay United Against Bullying throughout the year. You will find a pledge card at the bottom of this page if you would like to share what you're planning on social media.