Star of children's TV Andy Day, whose belief that all children (and adults) should celebrate their individuality, today fulfilled a lifelong dream to take this message wider by signing a record deal with Universal Music. Joining the likes of Take That, The Killers, Florence + The Machine and The Weekend, Andy and The Odd Socks, the band Andy Day created to embrace non-conformity in a fun way, will release their debut album in November 2017.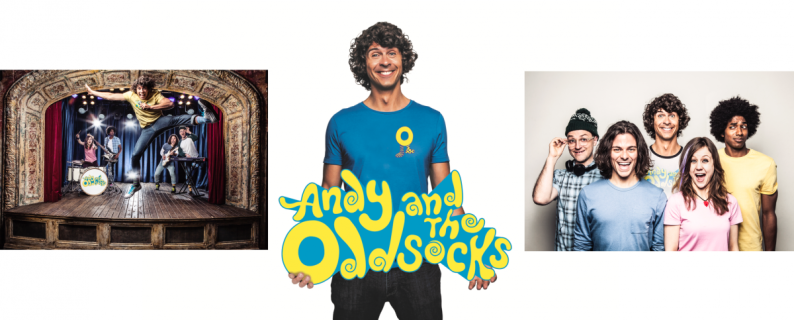 Andy Day also announced today that he has become Patron for the Anti-Bullying Alliance (based at the National Children's Bureau) and is joining forces with them to launch 'Odd Sock Day for Anti-Bullying Week' and take an active role in campaigning for the awareness of bullying at young age. Taking place on Monday 13 November and continuing throughout Anti-Bullying Week (13-17 November), the event will support this year's theme to celebrate difference and diversity with the tagline: 'All Different, All Equal'. 'Odd Sock Day for Anti-Bullying Week' will work together with primary schools and parents all over the UK to encourage young children to wear odd socks for the day and celebrate their uniqueness.
The importance of Andy's message that an understanding of individuality at an early age can help prevent bullying later in life is echoed by the Anti-Bullying Alliance.
There is growing evidence that bullying is a problem that often starts in primary school, with over a fifth of primary teachers taking part in a survey by TES saying that bullying was in a problem in their school. Research by the Department for Education suggests 6% of young people experienced bullying on a daily basis and 40% have suffered bullying in the last 12 months. Research also shows that children and young people who are involved in school bullying enjoy going to school less, have poorer relationships with their teachers, and are less likely to feel safe or included within the school. Disabled children and those with SEN are twice as likely to both be bullied and to bully others.
We're so excited to have Andy Day as our new patron. We share the same commitment to reducing bullying and Andy speaks directly to an age group that can influence behaviour for the future. We look forward to working together to celebrate that we are all different, and that this should never be used as a reason for bullying.
Martha Evans, Coordinator of the Anti-Bullying Alliance
This is a massive day for me and the Odd Socks. We all have dreams, but for us this really is a dream come true. We are in a privileged position that enables us to influence behaviours for the better and this record deal and our joint effort with the Anti-Bullying Alliance feels like a huge step towards this goal.
Andy Day is undoubtedly one of the most popular children's personalities in the UK and widely known for his antics tackling dinosaurs, investigating baby animals and being on safari, but the much-loved children's TV presenter now adds another string to his bow. This is Andy Day the pop star!
Andy and his brilliant band The Odd Socks were personally booked by Emily Eavis to make their debut show at Glastonbury this year and Emily, and her family are already big fans.
Created for children with huge imaginations, Andy and The Odd Socks recapture the old school fun, mischief and friendship of The Monkees and Banana Splits whilst rocking out to their unique songs about dinosaurs playing football, a groovy hoover and a ninja pig!
With a massive fanbase of 4-8 years olds (and a lot of mums too) Andy and his hilarious band, Moxy, Rio, Blu and Random Keith are all hugely individual characters who encourage kids to be themselves, proud of who they are and to be accepting of one another. They are about being unique and whoever you want to be, not just one of the crowd. That's what it means to be an odd sock!
Andy and his bonkers new band The Odd Socks are set to release their debut album in November 2017.
@andyoddsocks / #oddsockday #AntiBullyingWeek
- Ends -
Notes to editors
For Further Information, please contact:
LD Communications
Doug Wright or Alex Karol
Tel: 020 7439 7222
For further information about Anti-Bullying Week / Anti-Bullying Alliance and the National Children's Bureau, please contact:
About the Anti-Bullying Alliance
The Anti-Bullying Alliance (ABA) is a unique coalition of organisations and individuals, who work together to reduce bullying and create safer environments in which children and young people can live, grow, play and learn. ABA is hosted by the National Children's Bureau.
Find out how you can get involved with Odd Sock Day during Anti-Bullying Week at:
https://anti-bullyingalliance.org.uk/anti-bullying-week
About the National Children's Bureau
The National Children's Bureau is a leading children's charity working to build a better childhood for every child. We champion children's right to be safe, secure and supported, by using evidence and our expert knowledge to influence government policy, and help practitioners to do the best job possible, especially for the most vulnerable and disadvantaged children and young people.
For more information visit www.ncb.org.uk /@NCBtweets