Each year the Anti-Bullying Alliance coordinates Anti-Bullying Week in schools across England and this is the second year we have held an award for teachers that go beyond the call of duty to support children with issues such as bullying, family life, relationships and health. We had a significant number of entries. The unique thing about the award is that it pupils nominate their teacher.
We are pleased to announce the winners this year are: 
Each nominated teacher/school staff receive a certificate for being nominated. The winners had special prizes presented to them at a parliamentary event in Anti-Bullying Week by the Minister for School Standard, Nick Gibb MP.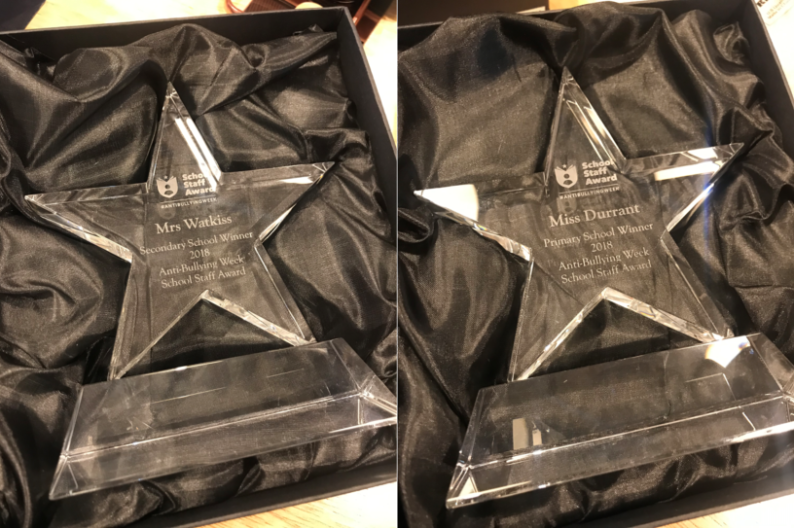 The nomination form said of Miss Durrant:
We would like to nominate Miss Durrant because she always helps those children who need extra care. She spends all her time, listening to children's worries and problems and does her best to guide and support them.
Miss Durrant makes everyone of us feel very special and important, she does not dismiss anyone's worry and always gives all her attention and lots of time to investigate and follow up. She will be very surprised to find out that she has been nominated for this award, because she doesn't think that anyone notices all that she does for all of us.
The nomination form said of Mrs Watkiss: 
Mrs Watkiss was always there for me in bad situations. Mrs Watkiss is a great head of college and should be nominated for her hard work and effort. Mrs Watkiss has made me a different person.
Mrs Watkiss has been there for me no matter what she has never given up on me no matter how rude I've been to her. She has helped me to understand that I am not alone people are there to help me.