The Anti-Bullying Alliance and HarperCollins are partnering up to celebrate the release of middle-grade novel The Offline Diaries by Yomi Adegoke and Elizabeth Uviebinené.
The Offline Diaries
The Offline Diaries is a major new middle-grade series by real-life besties Yomi Adegoke and Elizabeth Uviebinené. It is a universal story of friendship, falling out and the importance in making time for friends offline. At the Anti-Bullying Alliance, we have partnered up with publishers HarperCollins to celebrate this release, and have created a lesson plan and activity pack for KS2-4 teachers.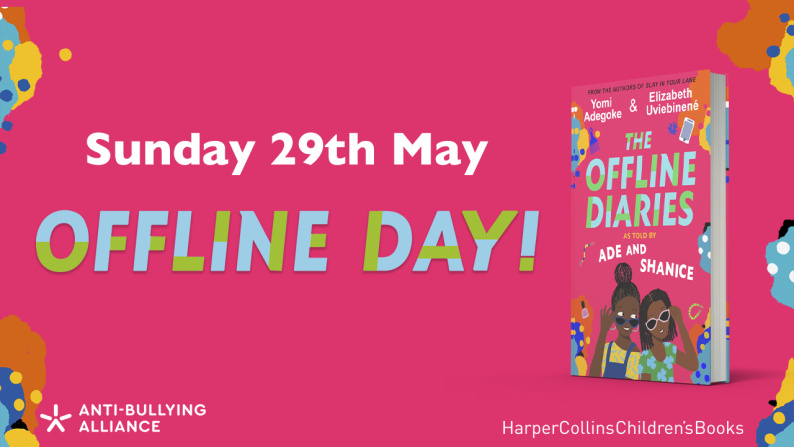 Offline Day
While there are benefits to being online, it's important to remember that spending time away from screens is also good for our mental and physical health. There are lots of things that make us feel happy and healthy which are much easier to do offline, such as spending time outside, keeping active and getting a good night's sleep. Making time to connect with friends offline means an opportunity to build healthy relationships and lasting friendships. Having a good friend can have a positive impact in many ways, including protecting children from being bullied.
With that in mind, HarperCollins and the Anti-Bullying Alliance are hosting Offline Day on Sunday 29th May. Offline Day is a day of digital detox that will benefit you, your friendships and your mental health.
How to take part
Taking part in Offline Day on Sunday 29th May couldn't be simpler: just have fun offline! 
Make plans with friends: a fun day out, a relaxed night in, or maybe something you've never done before! 
Agree not to be distracted by the online world - that means no social media! Put your phones, tablets and screens away, and give each other your full attention. You might even want to log out of your social media accounts for the day to keep you from being tempted!
Take a snap. We don't mind if your phone makes an appearance to take a quick photograph of your offline activities, and we'd love to see what you got up to when you go back online on Monday 30th May! Use the hashtag #OfflineDay and tag us @HarperCollinsCh & @ABAonline on Twitter.