Each year the Anti-Bullying Alliance coordinates Anti-Bullying Week in schools across England. This is the third year we have held an award for school staff who go beyond the call of duty to support children with issues such as bullying, family life, relationships and health. The unique thing about the award is that pupils nominate the member of school staff they think should win the award and the winners are chosen by a panel of young people.
Image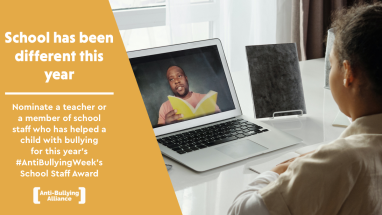 We are delighted to have a lovely message of support for Anti-Bullying Week and an announcement of the School Staff Award winners from the Minister for Children and Families, Vicky Ford MP. 
We're happy to announce that the Anti-Bullying Week School Staff Awards for 2020 are: 
Primary School Winner: Mrs Iles – Learning Mentor at Holt Farm Juniors, Essex
Mrs Iles has helped me regain my confidence helped me deal with other people including bullies and made my time at school more enjoyable and fun and helped me deal with life at school which I was finding very difficult. She also helped me through the Covid lockdown by talking to me on me computer on zoom. I would just like to know that we all appreciate her hard work.
Secondary School Winner: Mrs Robyn Biggs – Mathematics Teacher at St Gregory the Great, Oxford
This teacher is an amazing teacher who is always ready to listen to you and take the time to understand how you feel. Despite the fact that she's a maths teacher, she still fulfils her role by listening to others stress and issues. She would be there for you, even at the end of a school day, to comfort you whilst feeling under pressure, stress or any other reasons... You know you can count on a teacher like Mrs Biggs as she will go above and beyond to make sure her students are all happy and that their friendships wouldn't affect their studies. She will take immediate actions and sticks to her words... As soon as something is reported to her, she would be sure that that matter is being dealt with. This teacher fulfils her role as a maths teacher but also fulfils her role as role-model to students. Bullying is not a joke to her and you can tell this right through her face which is what I love about her.
Each member of staff from across the country that was nominated received a certificate of nomination that will be presented to them in Anti-Bullying Week. The winners were awarded with a specially framed certificate and quote from the pupils that nominated them and a trophy.
Image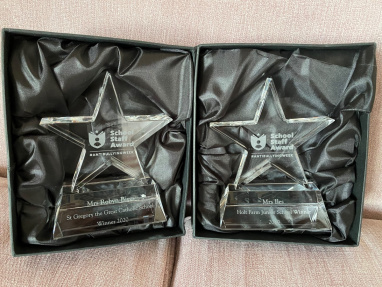 Image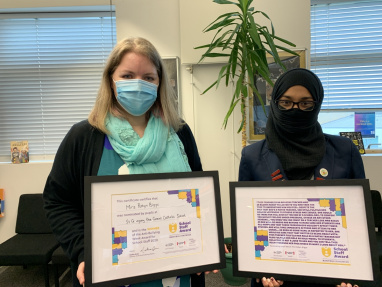 Image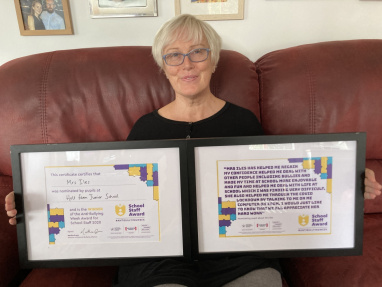 Today marks the start of Anti-Bullying Week 2020, an important campaign that I am proud to support. This year's theme, united against bullying, gives us all the opportunity to come together to make a difference. And this message feels incredibly powerful especially in light of the challenges presented by the Covid-19 pandemic that children and young people have faced this year. Whilst many children have shown remarkable resilience in difficult circumstances, we know that some children have found this period especially difficult for their mental health and wellbeing. We know that for very many children the return to school has been a positive experience, in particular the opportunity to reconnect to friend in a safe way, but we know that there are also children that worried about being bullied. And I want to send a clear message today that bullying should never be tolerated and that we are committed to supporting schools to tackle it head on.

We've heard so much about schools focusing really strongly on pupil wellbeing this term, that I'm confident that they also want to tackle bullying. But some schools have already gone that extra mile. And that is why I'm proud to be announcing Anti-Bullying Week School Staff Awards for two members of school staff. These awards are especially important as they are all nominated by pupils. So I'm pleased to announce that the secondary school winner is Mrs Robyn Biggs, a Mathematics Teacher and St Gregory the Great School in Oxford, and the primary school winner is Mrs Isles, a learning mentor at Holt Farm Junior in Essex. Huge congratulations to both of the winners who really did go above and beyond to reduce bullying in their schools and to support those who have been bullied.

I'd like to finish by saying thank you to the Anti-Bullying Alliance for making Anti-Bullying Week a success and to you all for working together to make a real difference in our schools. Everyone needs to play their part to tackle bullying. Each one of us must put our own piece in the puzzle and together we will all be united against bullying.
Transcript of the message from the Minister