For Anti-Bullying Week 2021: One Kind Word, we held two Twitter Talks!
These Twitter Talks have now happened. Find out more details below and please use #OneKindWordTT on Twitter to review the talks.
What is a Twitter Talk?
A Twitter Talk is a virtual Twitter-based meeting that takes place by replying to tweets and using a hashtag. We asked a a series of questions that were posted as tweets over the course of the talk. We had a panel of amazing experts, but anyone with a Twitter account could take part.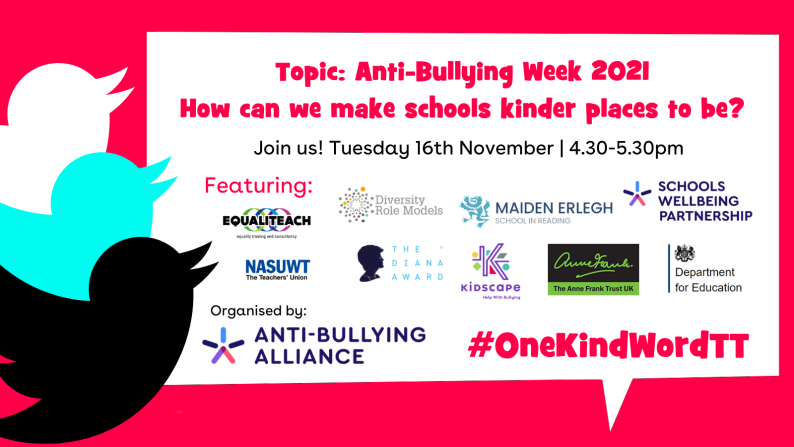 How could you get involved 
At the date and times below, peopled joined us on ABA's Twitter account @ABAonline. If you want to review what was discussed, look out for the questions we tweeted and people's replies. Don't forget to use the hashtag #OneKindWordTT. 
1. Anti-Bullying Week 2021: How can we make schools kinder places to be?
Time and Date: Tuesday 16th November 2021 – 4.30pm – 5.30pm
Panel: 
2. Anti-Bullying Week 2021: How can we be 'anti-bullying' parents and carers?
Time and Date: Thursday 18th November 2021 – 8.30pm – 9.30pm
Panel: